Christmas Break is the perfect opportunity to do some really fun and easy crafts with your kids! After all, you've got nothin' but time! With a few inexpensive items, and stuff around the house and yard, here are some fun crafts to enjoy!
Homemade Pine cone Bird Feeder
I have great memories of doing this craft as a child. Noah, Natalie and I did this craft last year, and again yesterday. I used to use peanut butter, but there is thought that suet or a vegetable oil of some kind is better for the birds. Last year we had so many feathered friends come and enjoy the feeder, so I can't wait to see them show up again this year!
Items you will need:
1 large, open pine cone
suet or coconut oil
bird seed (if you don't want to buy bird seed, try cornmeal and oats and nuts!)
string to hang up your feeder
Roll your pine cone in melted oil, or have it soft enough that you can spread it easily with a butter knife.
Roll oiled pine cone into a bowl of bird seed until it is well covered. Wrap a long string around the pine cone, and hang in a tree or an area where you can easily see all of the birds that will be enjoying this special treat!!
Q-tip snowflakes
I like this craft because it can be as simple or ornate as you can imagine, so it is great for a variety of age ranges.
Items you will need:
construction paper
glue
q-tips
scissors
glitter- optional
Have fun cutting q-tips in half, in quarters, or leave them whole to make all sorts of unique snowflakes! Glue them with a glue stick onto construction paper. use glitter to finish off the tips, or make swirls around the construction paper.
Snowman Craft
Snowmen just make you smile.
You will need:
tongue depressors
black paint or markers
ribbon
decals, paper, buttons to decorate the brim
googly eyes
paper for nose
construction paper
glue
lay 6 tongue depressors down in a row and paint the top quarter black. glue them down onto construction paper. Lay a 7th painted depressor across horizontally and a little scroogy to make the brim and glue it in place. Wrap ribbon around the brim and decorate as much as you would like. Draw on the face with marker, paper, and googly eyes.
You could have them write out the lyrics to frosty the snowman, or have fun singing the song while you decorate your snowman.
Candy Cane Letters
I was bumming around the inter webs looking for more cute ideas, and I stumbled upon
www.littlemisscraft.com
. They have a ton of cute ideas, and I loved these cute little letters! Perfect for kids who are just learning as great practice over break! It will also encourage those little fine motor muscles to stay strong over break! Turn these letters into ornaments, or hang with clothes pins to spell words!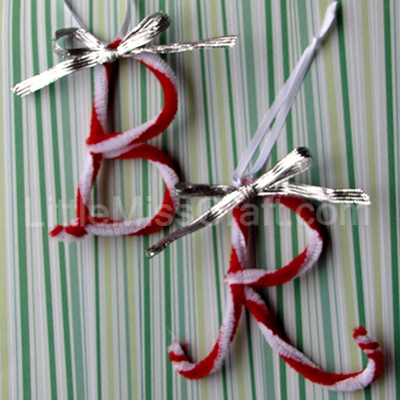 Items you will need:
red and white pipe cleaners
ribbon
twist pipe cleaners around to make a candy cane look, and bend and twist into shapes of any letters you choose. hang with ribbon or clothes pins!
I hope you enjoy some crafty time with your kids or friends this Christmas and New Years'! Live it up now, and give your child some great memories!
Love,
Anna